Christopher Philip Sewell, Artist Extraordinaire
Chris Sewell, first son of Phil and Ellen Nuttle Sewell, was born on December 13, 1964, in Easton, Maryland. He began his early art training on the knee of his beloved grandmother, Gertrude, who is well known for her sketches in the first edition of the Trappe United Methodist cookbook, Cup of Blessing. She taught Chris the skill of line drawings. Chris's next teacher was his uncle, John Sewell, who holds a Commercial Art degree from the University of Maryland, and who also contributed artwork to the first edition of Cup of Blessing. Uncle John guided Chris's artistic development, influencing his use of color and shading.

Throughout his high school career, Chris created a comic book chronicling the adventures of characters based on family members, friends, and neighbors. Chris both illustrated and wrote the narrative for this book, which demonstrated his clever sense of humor and striking use of color. The comic book received accolades when it was displayed at Trappe United Methodist Church on August 12, 2001, during an art show honoring his work. In 1985, Chris graduated from Linganore High School. During the graduation ceremony, Chris received a standing ovation when he crossed the stage to accept the school's distinguished Art Award.

From its inception in 1984 until the year following his death, Chris's works were entered in the Talbot County Fair. He consistently won ribbons and received public acknowledgement of his honors in the Star Democrat. Following the Fair in 2004, Chris completed his final art works, which his family displayed at the 2005 Fair in his memory.

Chris studied with local artist, Kurt Plinke, from 2001 through 2003. Plinke helped Chris expand from the mediums of colored pencil and marker to watercolor and oil.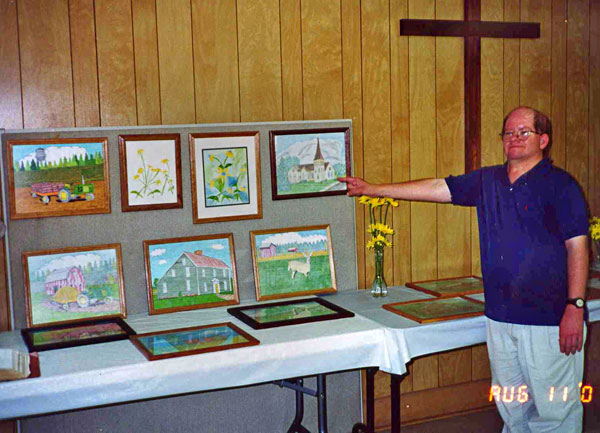 Chris's works demonstrate his keen eye for detail and his enjoyment of the world around him. He especially enjoyed social occasions with friends and family, and through his gentleness and caring, his life exemplified his love of Jesus. He was an active member of Bethesda United Methodist Church in Frederick County, Maryland and faithfully attended Trappe United Methodist Church during his summer stays at the family farm near Trappe. Chris passed away on December 23, 2004, but he lives on in the hearts of many. He was a blessing to all who knew him, and we hope his artwork contained in the second edition of Cup of Blessing will bless each of you.